Ich bin fest davon überzeugt, dass in jedem Menschen viele Potenziale schlummern und damit einhergehende Möglichkeiten. Es ist nicht immer einfach, seine eigenen Stärken zu finden. Und wenn man sie gefunden hat, heißt das noch lange nicht, dass man den Mut hat oder die Möglichkeit, seine Potentiale zu leben und die damit verbundenen Wege einzuschlagen. Aber mehr Gedanken dazu später...
Ich möchte euch heute ein Muster vorstellen, das mich die letzten Monate fasziniert hat. Es ist immer dasselbe Muster!
Und doch sieht es so unterschiedlich aus, dass man es kaum glauben kann.
I am sincerely convinced, that every person has many capabilities accomponied by many possibilities. It is not really easy finding out your own strenghts. And if you have found them out, it needs a lot of courage, to live these potentials. Read more thoughts about later...
Today, i wanna introduce a pattern to you , which has been very fascinating to me last months. All the tiles have the same pattern. They look soooo different that it is hard to believe.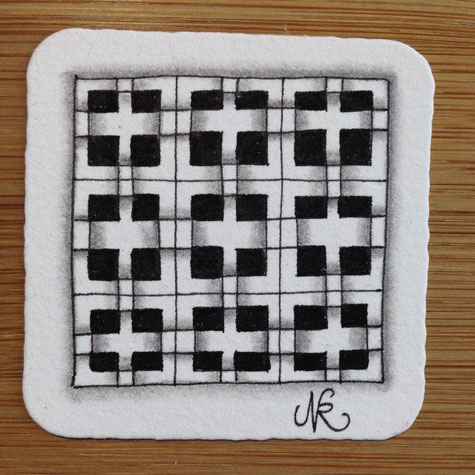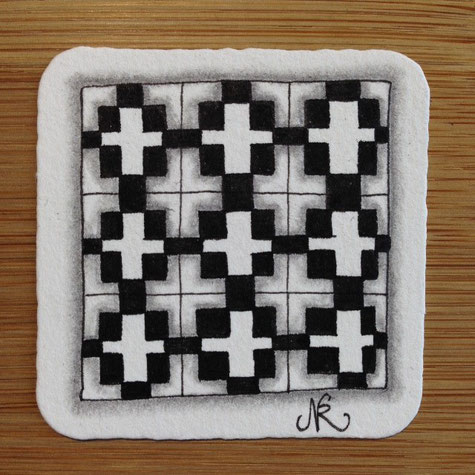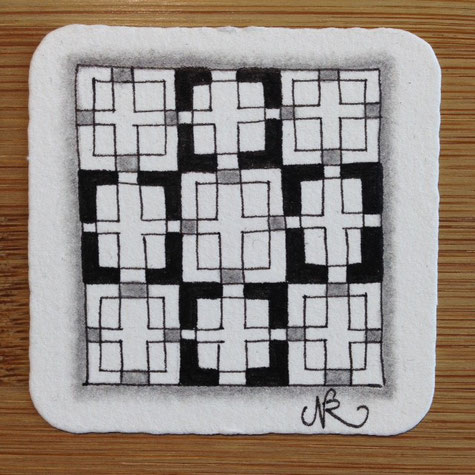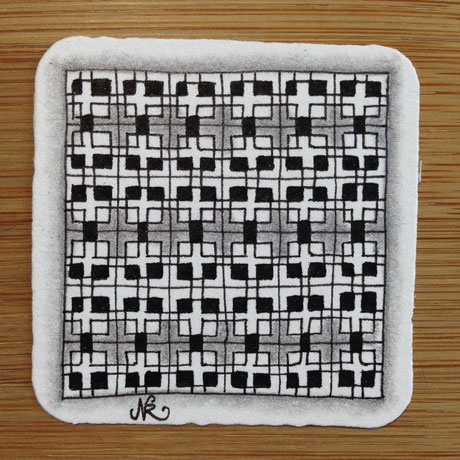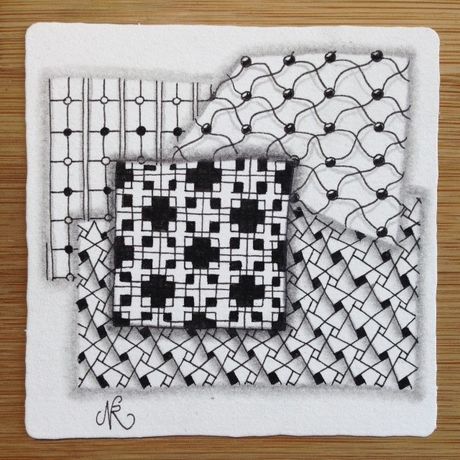 ELLOSO in der Mitte vor meinem Muster EAXY (unten).
Oben links das Muster CAPELL von Anita Roby-Lavery und oben rechts FISH NET von
Mariët Lustenhouwer.
ELLOSO in the middle and underneath my pattern EAXY.
At the top left the pattern CAPELL from Anita Roby-Lavery and at the top right FISH NET from
Mariët Lustenhouwer.
Vor vier Jahren starb mein toller, starker und tapferer Vater nach langem und schwerem Krankheitsweg. Am 26ten November 2016 wäre er 70 Jahre alt geworden. Es war ein trauriger Tag für mich, an dem ich mich sehr allein fühlte mit meinen Gefühlen und Gedanken. Zwar sind die Jahre ins Land gezogen und ich habe den Verlust akzeptiert, aber dennoch ist da manchmal dieses überwältigend traurige Gefühl, ihn stark zu vermissen. Bestimmt weiß der eine oder die andere, was ich meine. Ich war in dieser Stimmung, als ich abends anfing zu tanglen und versuchte, ein Muster zu dekonstruieren. Chinesische Fenster hatten mich inspiriert. An diesem speziell trüben Tag trat also dieses besonders vielfältige Muster in mein Leben.
Ich nenne es ELLOSO.
Four years ago, my awesome, strong and brave dad died after years of illness full of heavy burden. At his birthday, the 26th of november in 2016, my father would have been 70, this special and versatile pattern came to me.
I call it ELLOSO.

It has been a sad day to me and i felt alone with my thoughts and feelings. Years have passed and i have accepted that he is gone. But sometimes, there is still a strong feeling of sadness and missing him, you can imagine. I have been in this special mood in the evening and started tangling and deconstructing chinese windows i have seen.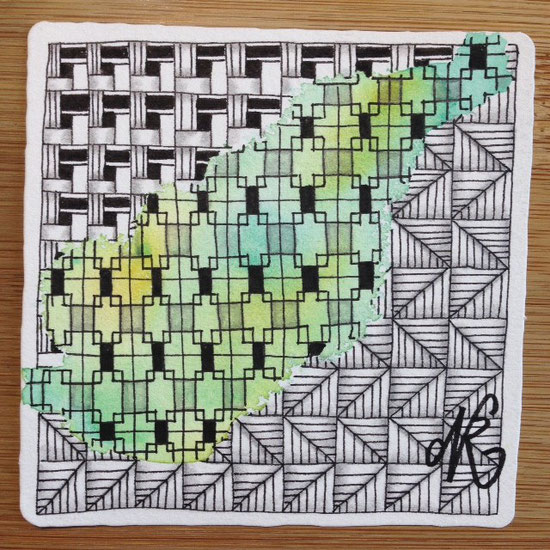 ELLOSO im grünen Feld.
Oben links eine Variation von TWILE (STOIC), ein Muster von Lesley Scott-Gilliland, CZT,  und das Muster CHARD von Linda Farmer, CZT, unten rechts.
ELLOSO in the green field.
A variation of TWILE (STOIC), a pattern from Lesley Scott-Gilliland, CZT, at the top left and CHARD , a pattern from Linda Farmer, CZT, at the bottom right.
Diese Kachel tangelte ich also bis nachts um 2 an Papas Geburtstag und ich war plötzlich so froh und mir war klar, dass ich dieses Muster IHM widmen wollte. Es sah für mich irgendwie so aus, als wären es viele "Fußballfelder", auf diesem grünen Hintergrund. Und mein Vater Elmar liebte Fußball sehr.
ELMAR LIEBTE FUSSBALL......      ELmar LOved SOccer!         ELLOSO also :-)
This tile, i have tangled at his birthday until the early morning hours and suddenly i have been so happy and it felt so clear to me, that i want to dedicate this pattern to HIM. At this green background, it seemed to me as if there are a lot of soccer fields. My dad Elmar loved soccer very much. ELmar LOved SOccer!     ELLOSO :-)
Die folgenden Wochen begleitete mich ELLOSO beim Tanglen ständig und ich entdeckte das unheimliche Potential, das in diesem Muster steckt. All die Möglichkeiten, die ihm innewohnen! Und da wurde ich noch ein Stückchen glücklicher, weil es Elmars Muster ELLOSO ist:
Mein Vater hatte sehr viele wunderbare Potentiale in sich stecken. All die Möglichkeiten und Wege, die er hätte gehen können... Aus einer traditionellen Winzersfamilie stammend, war ihm dieser Beruf nahegelegt worden. Ich denke nicht, dass er seine Träume, Wünsche und Potentiale damit leben konnte. Er arrangierte sich mit diesem zwar schönen Beruf, aber es war nicht das, was er sich eigentlich für sich erhofft hatte. Er legte mir nach dem Abitur nahe, dass ich beruflich genau das machen sollte, was ICH möchte und dass er hinter mir stünde, was auch immer das sei. Was für ein großherziger und lieber Mensch er war. Ich rechne ihm das hoch an, nicht nur diese Sätze. Ich bin so dankbar, dass genau ER mein Vater war. Auch wenn er viele seiner Träume nicht lebte, hat er mir doch das auf den Weg gegeben, dass zumindest ich meine Träume leben solle.
The following weeks ELLOSO has been my accompany while tangling and i discovered the terrific potential, that is in it. All the possibilities, that are inhering! And then, i suddenly became a little bit more happy, because it is Elmars pattern ELLOSO.
My dad has had a lot of wonderful potentials inherent. All the possibilities and ways he could have gone....
Born into a traditional family of wine growers, his parents supposed him to be a wine grower. I don`t think that he could live his potentials, dreams and wishes with this decision. He arranged with this nice profession, but it hasn`t been that, he dreamt of. After my high-school diploma, he told me, that i am totally free in chosing my profession. That i should do what I want and that he would stand by my side. He has been such a magnanimous and dear person. I think highly of him, not only because of these sentences. I am so thankful that HE has been my father. Although he didn`t live a lot of his dreams, he has paved the way for me.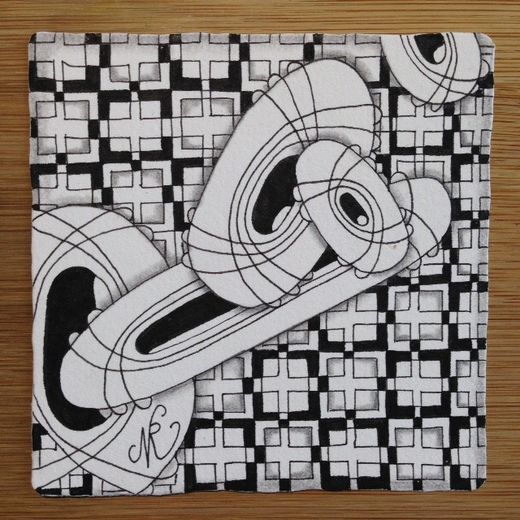 ELLOSO als Hintergrundmuster vor dem mir so liebgewonnenen, schönen Muster ECA-LIN von Annette Plaga-Lodde, CZT.
ELLOSO as a background with this wonderful loved pattern ECA-LIN from Annette Plaga-Lodde, CZT.
Nun schau dir die Kachel oben an! Diese ECA-LIN Juwele (deine Potentiale) auf dem Hintergrund mit einer Version von ELLOSO.
Auch du hast viele Potentiale, die in dir schlummern. Auch du hast viele Möglichkeiten, du musst sie nur in Erwägung ziehen und anpacken. Du kannst Wege einschlagen und schauen, wohin sie dich bringen.
Schritt für Schritt! So wie du es auch kennst vom Tanglen, wenn du tanglest. Strich für Strich!
Und plötzlich hast du etwas Wunderbares für dich geschaffen, dass du nicht erahnen konntest!
And now, have a look at this tile above! These ECA-LIN jewels (your potentials) at the background with one version of ELLOSO. You also have many potentials, that lie dormant in you. YOU also have many possibilies to take into consideration and to come to grips with them. You can strike a new path and look, where you will come and they will bring you to.
One step at a time! Like you also know from tangling, if you tangle. Stroke after stroke!
And suddenly you have created something wonderful for you, that you never have dreamt of!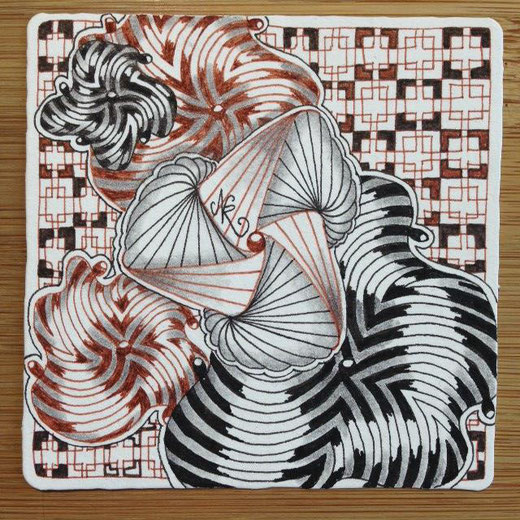 ELLOSO als Hintergrund vor vielen PROSA (ein anderes Muster von mir...) und YULA in der Mitte von Ekaterina Berezhnaya.
ELLOSO as a background with many PROSA (another pattern of me...) and YULA in the middle from Ekaterina Berezhnaya.
Und jetzt möchtest du wahrscheinlich auch endlich die Schritt-für-Schritt Anleitung für ELLOSO sehen. Hier ist sie:
I guess, you wanna have a look at the stepout for ELLOSO. Here it is: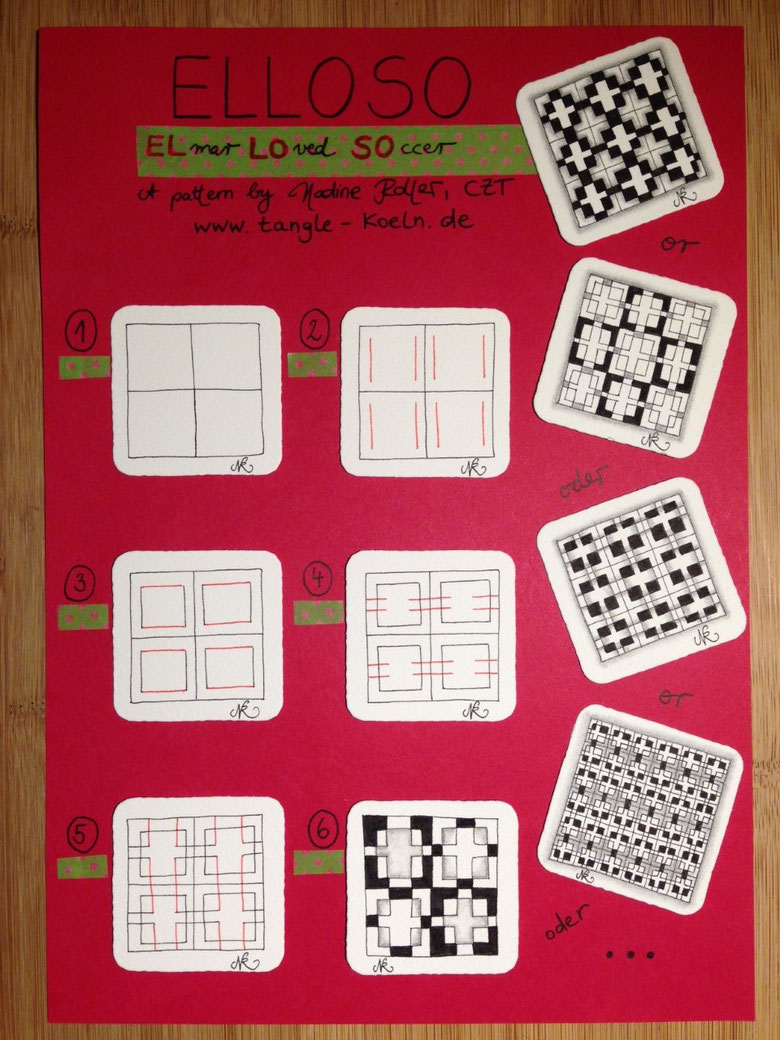 Ich hoffe, du hast meine Zeilen gerne gelesen. Vielen Dank! Über deinen Kommentar würde ich mich sehr freuen!
Ich wünsche dir viel Freude beim Tanglen von ELLOSO. Ich bin gespannt, welche Varianten du wählst.
Vielleicht findest du auch noch eine andere? Dann lass` es mich gerne wissen. Und hier noch ein letzter Denkanstoß, womit ich mich mental gerade oft beschäftige :
Versuche immer wieder aufs Neue, so oft es nur geht, in dich reinzuschauen..... was du wirklich willst ..... und lebe es... Jetzt..... ! Wann sonst?
I hope you enjoyed reading my lines. Thank you! I am delighted about your comment!
I wish you much fun tangling one of the seven variants of ELLOSO.
Maybe you will find another one? So let me know please.
Always try as often as you can looking inside of you, what you really want and live it...... Now...... ! When else?