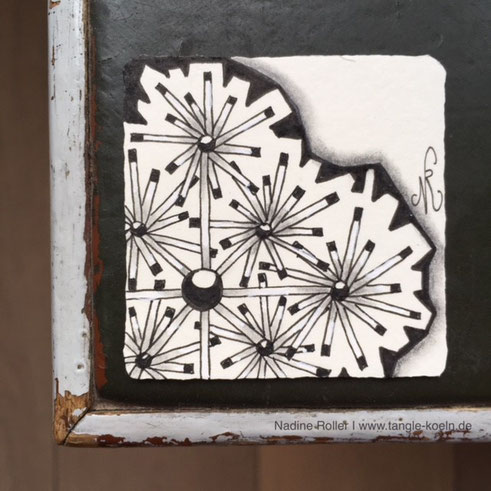 Eine verlängertes Wochenende in der Eifel mit der Familie meines Mannes kann sehr inspirierend sein! Eine kleine, feine Auszeit in einem alten, liebevoll eingerichteten Bauernhaus. Wir hatten das Zimmer mit dieser interessanten Lampe, die nicht nur meinem Sohn gefiel. Morgens, zwischen Duschen und Frühstück, musste ich einfach ausprobieren, wie die Lampe als Tanglemuster aussehen könnte!
Abends, in geselliger Runde mit leckerem Gin Tonic und Wein, ließ mich das neue Muster nicht mehr los. Ich kann auch tanglen UND mich unterhalten, wenn ich möchte ;-).
I stayed some days at the countryside with the family of my husband. It has been a nice time-out in an old lovely house. We have had the room with this nice lamp which not only my son liked a lot. At saturday morning, between having a shower and breakfast, i really had to try how this beautiful lamp could become a tanglepattern. In the convivial evening, drinking gin tonic and wine, i couldn`t stop tangling this new pattern. You should know that i can tangle AND have a conversation, if I may say so ;-).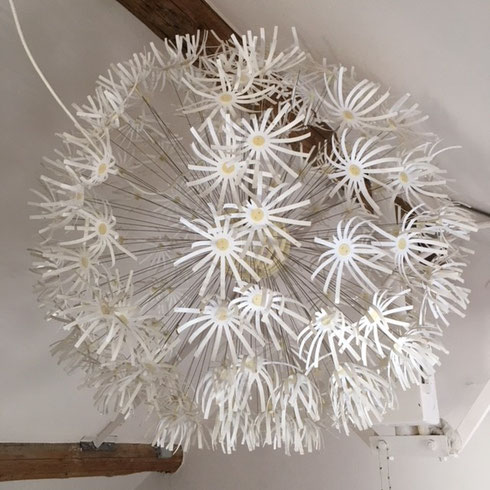 Meine liebe Schwägerin hatte dann zu später Stunde die gute Idee, dass ich doch wunderbar auch in das Gästebuch tanglen könnte. Zwischen packen, aufräumen und Abreise kam dann der Stepout am nächsten Tag noch dazu.
In the midnight hours, my lovely sister-in-law have had this cool idea that i should tangle into the guest book. At the next day between packing, tidying up and our departure the stepout came on board.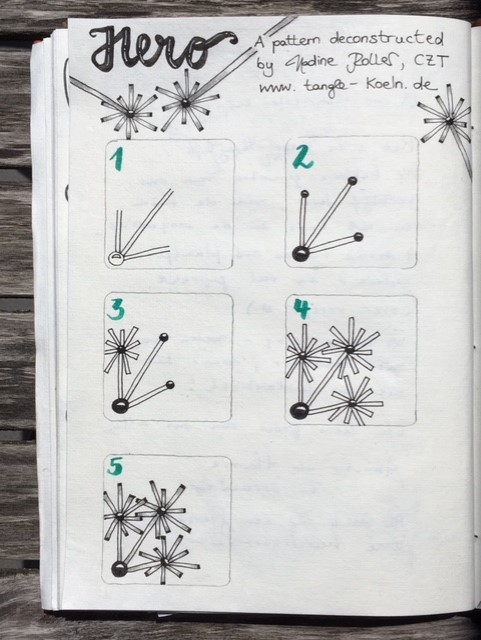 In der Zwischenzeit habe ich natürlich mein neues Muster HERO öfters ausprobiert, ob es auch etwas taugt.
Es taugt, jipihh!
Es geht für mich allerdings schneller, wenn ich in Schritt drei bei jedem "rechteckigen Funken" auch direkt das äußere Feld schwarz male. Dann muss man nicht nochmal alles drehen und ist mehr im Fluss.
Das Muster hat etwas sehr energievolles an sich und es strahlt Kraft aus. Eine Freundin meinte, es sähe aus wie schöne Wunderkerzen. Der Vergleich passt und gefällt mir. Unten zeige ich dir noch ein paar Beispiele, wie ich HERO bisher verwendet habe.
In the meanwhile I have tangled my new pattern HERO a few times to see if it is suitable. It is, yayyy :-)!
It is a handy hint in step three that you paint the end of the "square  sparkle" directly black. Then you don`t have to turn it again and get even more flow.
I think this pattern is full of energy and power. A good friend of mine told me, she is reminded of sparklers. I like this comparison and it fits. Please scroll down, you can find more examples how i used HERO below.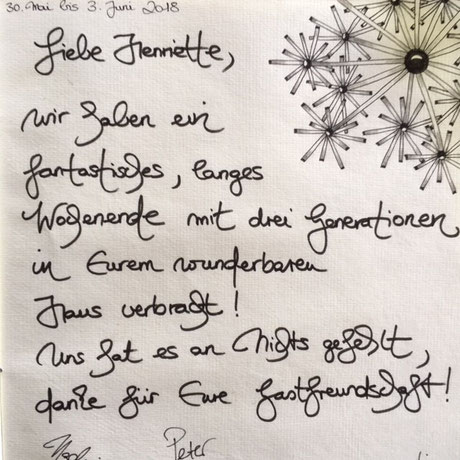 Bestimmt wunderst du dich, warum ich das Muster HERO genannt habe? Es ist meinem wunderbaren Mann gewidmet. HE und RO sind seine Anfangssilben und natürlich ist er mein persönlicher HERO :-).
Maybe you wonder about the name HERO? HE and RO are the first syllables of my husband and he is my personal HERO :-).
Auch wenn die Zeitfenster für mich im Familienurlaub klein waren, freue ich mich sehr, dass ich sie wunderbar genutzt habe.
Frei nach dem Motto: "Do small things with great love."
 Although my time windows having "metime" had been small, I am happy and thankful that i took advantage of the moment.
In keeping with the motto: "Do small things with great love."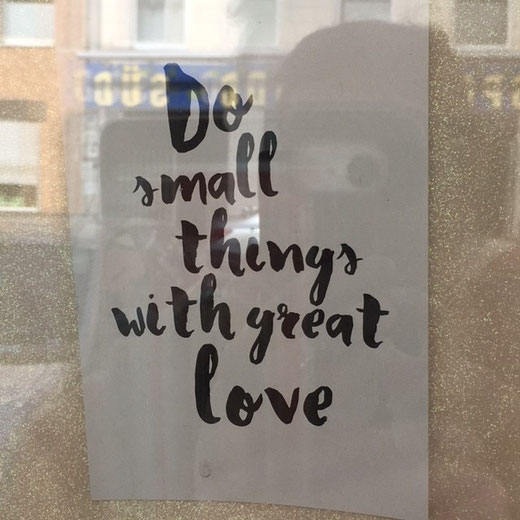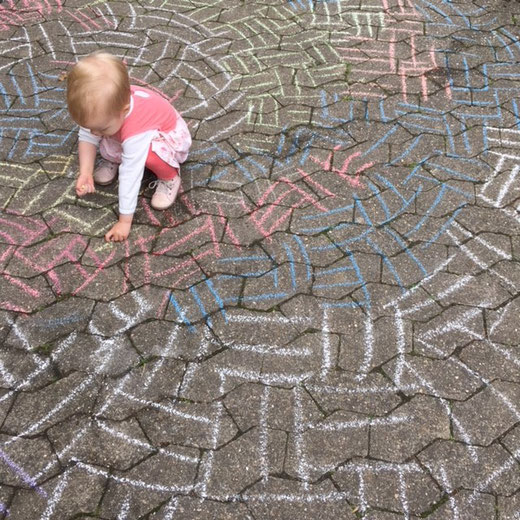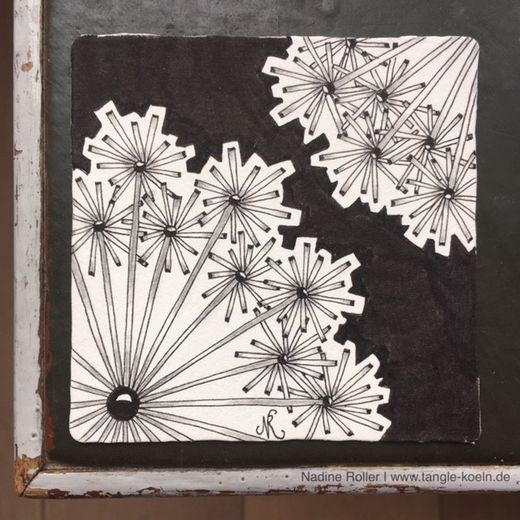 Auf einer Geburtstagskarte für meine liebe Oma, die am 11. Juni 91. Jahre alt wird. Auf dem Briefumschlag ist vorne ist HERO als Blume gezeichnet bzw. als  Rahmen auf der Rückseite.
At a birthday card for my lovely grandmother who is going to be 91 years old at june 11th. At the top side of her envelope HERO as a flower and at the back side HERO as a frame or border.
Ich konnte es am Schluss dann doch nicht lassen, noch ein wenig Farbe als Akzent zu setzen. Und mein liebgewonnenes Muster VA wollte auch noch mit dazu.
I couldn`t leave it to take green as a little colorful accent. And my embosomed pattern VA also wanted to join.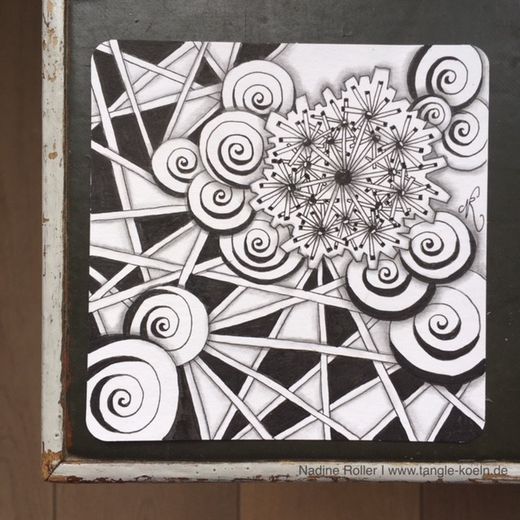 HERO as a little star combined with weighted PRINTEMPS and HOLLIBAUGH (both original tangles from the founders Maria Thomas and Rick Roberts).
Ich danke dir, dass du vorbeigeschaut hast! Ich freue mich immer sehr über einen Kommentar :-). Hab` eine sonnige Woche!
Thank you so much for stopping by. I am always very delighted to read your comment. Have a week full of sun!