Darf ich vorstellen:
Mein neues, altes Tangle Muster WINFLO. Entstanden ist es schon vor über einem Jahr in meinem Skizzenbuch. Im Januar habe ich mich seiner angenommen, nachdem es mir ins Auge fiel und von mir Raum einforderte :-). Es wurde nun auch endlich benannt. Da es ein bisschen wie eine "Flügelblume" (englisch: "wingflower") aussieht, hat es den Namen WINFLO, wie WINgFLOwer, erhalten.
I want to introduce my tangle pattern WINFLO to you. It is new and at the same time old. I created WINFLO one year ago but never gave a name to it. In january it awaked suddenly and wanted to have space. I called it also WINFLO, because it looks like a WINgFLOwer :-).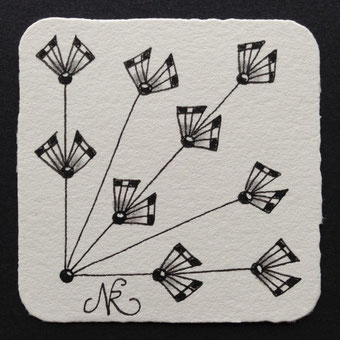 Ich liebe es, wenn Muster eine Bedeutung haben und ihnen eine symbolische Kraft innewohnt. Dann tangle ich sie nochmal ein wenig lieber und verbinde mich dann freudig mit dieser Symbolkraft.
I love it, when patterns have a meaning and inhere a kind of symbolic power. Then i love them even a little bit more and they bring joy to me while tangling and connecting me to this symbolic power.
Was also bedeutet WINFLO für mich?
WINFLO möchte auf alle Fälle wachsen!
Am Anfang war das Muster eher sehr linear und die Richtung war starr vorgegeben, wie ihr oben auf der Bijou Kachel seht...
Mit der Zeit und etlichen Kacheln hat sich WINFLO verändert: Es wurde flexibel und offen auch für andere Richtungen, die es einschlagen kann. So nach dem Motto, "nicht nur ein Weg führt nach Rom" , hat es "Flügel bekommen" und schaut sich nun auch interessiert und neugierig auf anderen Wegen neue Perspektiven an, siehe unten :-)
So, what means WINFLO to me?
WINFLO wants to grow in any case!
In the beginning, the pattern has been rather unyielding and rigid linear like you see at the bijou tile above...
As time went by and have tangling WINFLO over and over it changed: WINFLO became flexible and got an open mind about other directions. According to the motto "all roads lead to Rome", WINFLO got wings and regards now other directions and new perspectives with curiosity, see below  :-)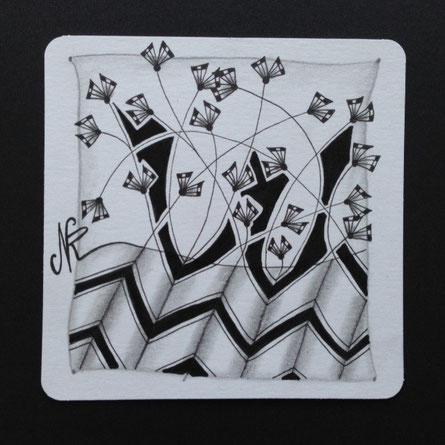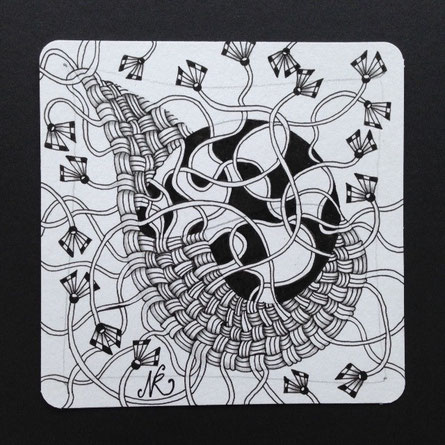 Und hier kommt nun endlich die Schritt für Schritt Anleitung für WINFLO. Danach zeige ich euch noch Beispiele, wie WINFLO als Rahmenbordüre oder Monotangle aussieht....
And now, you can finally have a look at the stepout of WINFLO. After that, i will show you some examples how WINFLO looks as a border or a monotangle...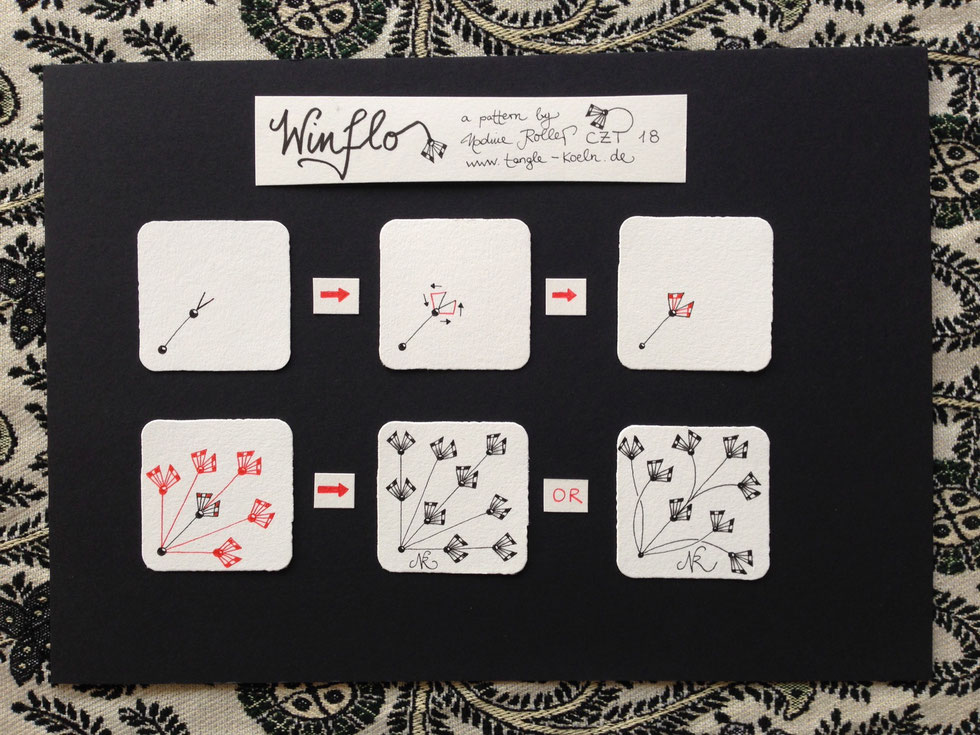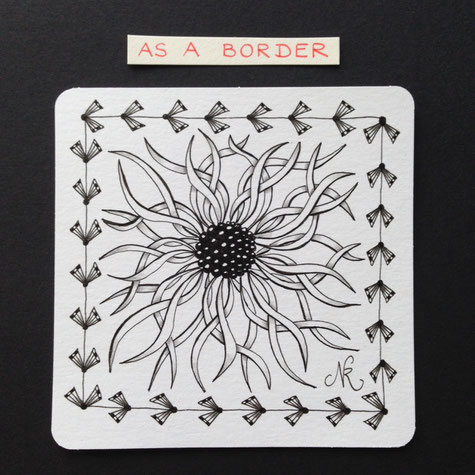 WINFLO umrahmt framed SQUID
                             (Maria Thomas and Rick Roberts)
           WINFLO als ein Monotangle as a monotangle,               umrahmt von meinem Bordürenmuster BORNARO
            framed with my border pattern BORNARO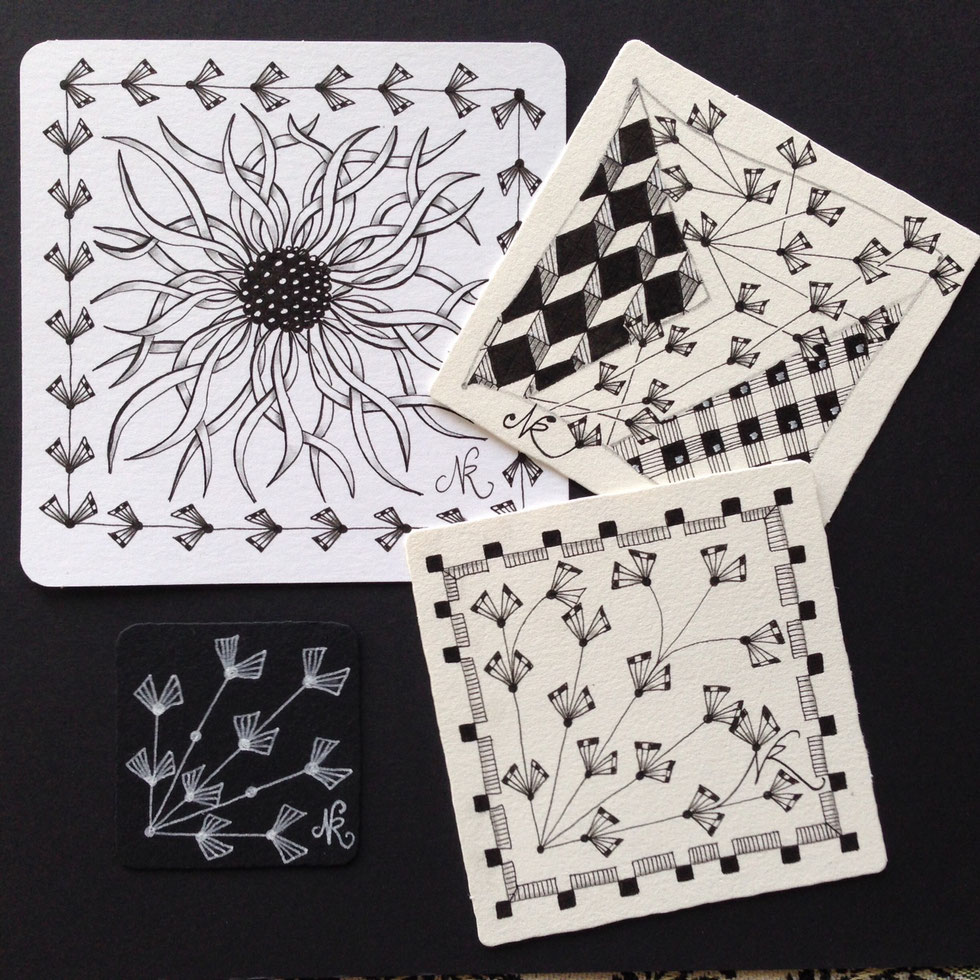 Zusätzlich hier :          WINFLO mit with RAUTYFLEX (Kathrin Bendel, CZT) und and GINGHAM (Margaret Bremner, CZT) ,
                                          WINFLO auf einer schwarzen  Bijoukachel / at a black bijou tile
Unten seht ihr links eine Dankeskarte für meine Yogalehrerin Brigitte und rechts die Geburtstagspost für meine 89jährige Oma Martha. Beide haben sich sehr gefreut :-)
Below, at the left side, you can see a thank you card for my yoga teacher Brigitte and at the right side, the birthday mail i have sent to my 89 year old grandmother Martha. Both have been very happy :-)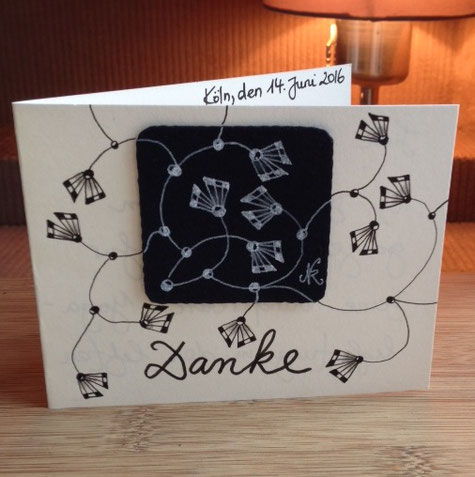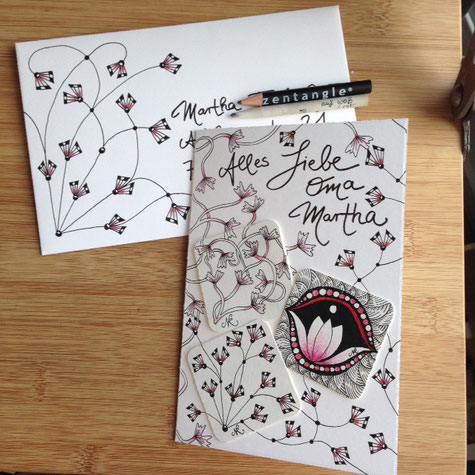 WINFLO auf schwarzer Bijoukachel, weiterwachsend....
WINFLO at black bijou tile, growing further....
Muster / patterns : WINFLO, GOBI
(auch ein Muster von mir mit anderer Bedeutung / also another growing pattern of me with another meaning behind ;-), SHATTUCK (Maria Thomas and Rick Roberts) und and NAMASTE (Hanny Waldburger, CZT)
Ich hoffe, euch gefällt WINFLO! Ich würde mich riesig über Kommentare freuen! Wenn ihr gefallen an dem Muster gefunden habt, dann probiert es doch aus und schickt mir eure Kachel per Mail. Gerne würde ich weitere WINFLOs sehen und euch hier zeigen!
I hope you like WINFLO! You would make me very happy with comments! If WINFLO appeals to you and you will have a try, please send an email with your tile to me, if you want that. It would be a pleasure to me to see them and show them to you.