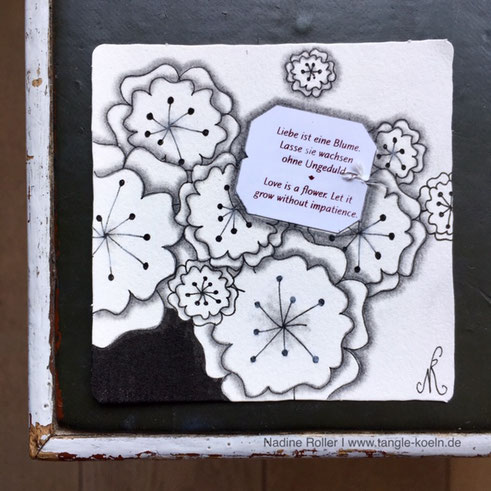 Welches Muster wählst du gerne für eine Hochzeits- oder Geburtstagskarte?
Es sollte ein fröhliches, erfreuliches und leichtes Muster sein? Unbeschwert, luftig und freundlich?
Man sollte meinen, dass es unzählige solcher Muster gibt. Ganz bestimmt.
Und doch konnte ich mich für keines  entscheiden, als ich die Hochzeitskarte für meinen Onkel und seine Frau anfing.
Manchmal sind es genau diese etwas unschlüssigen Momente, in denen dann plötzlich eine neue Idee zündet.
Ich wollte ein zartes Blumenmuster, gleichzeitig auch passend zum Sommer. Schwuppdiwupp waren dann diese Blüten entstanden. Ich liebe Blumen und verschenke sie auch gerne. Und diese halten für immer. Das passt doch prima. Schööööönnnn :-)!
Und wie sollte ich das Muster nennen? Etwas mit aufblühen...? Mmmhhh...!
Irgendwann war mir dann plötzlich klar, dass ich es HAPPY nennen möchte.
HAPPY, weil es mich fröhlich stimmt, es zu tanglen.
HAPPY, weil es prima auch GLÜCKwünsche übermitteln kann.
HAPPY, weil es genau dieses Fröhliche, Leichte und Liebenswerte an sich hat. Es ist zart und leichtherzig. 
Und bislang scheint es noch kein Muster mit diesem Namen zu geben ;-).
So war diese tatsächlich sehr unbeschwerte Geburt meines neuen Musters. Locker und sorglos ;-)
Which kind of patterns are you choosing for wedding and birthday cards? I wanted a lightsome and delightful pattern. You would think that there are thousands of patterns like this? For sure! For all that i couldn`t decide which I wanna choose for the wedding card of my uncle and his wife last week. Sometimes exactly these indecisive moments bear new sparking ideas.
I wanted a fine, gentle floral pattern. At the same time fitting to summer time.While testing came bada boom bada bing these flowers into being. I love flowers and i love to give them as a present. And this ones last forever. Everything fits together perfectly. How nice is that :-)!
And which name i had to choose? Something with blossoming...?
At some point i suddenly knew that i want to call it HAPPY.
HAPPY, because it makes me felicitous while drawing.
HAPPY, because it is perfect for any kind of congratulations.
HAPPY, because this pattern has something lovely, lightly and feathery. Lightsome and lively. Joyful and buoyant.
And also there is yet no pattern with this name I am aware of ;-).
So, now you know about my easygoingness while this loosey-goosey birth of my new pattern HAPPY :-).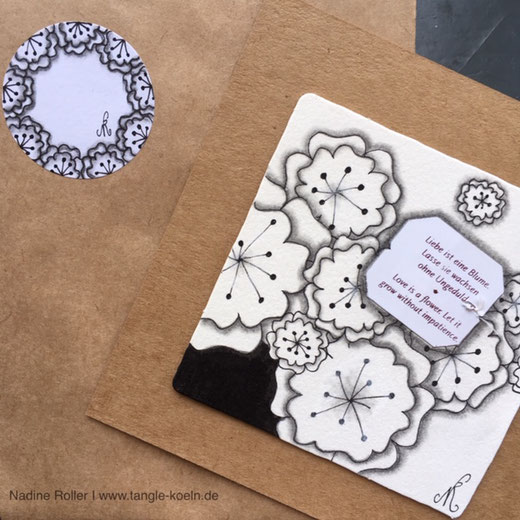 This has been my wedding card with a sticker at the present bag :-)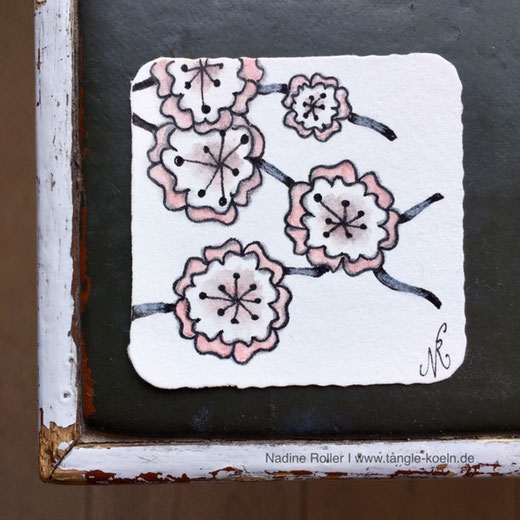 Gentle pink-coloured with branches as if they are cherry blossoms.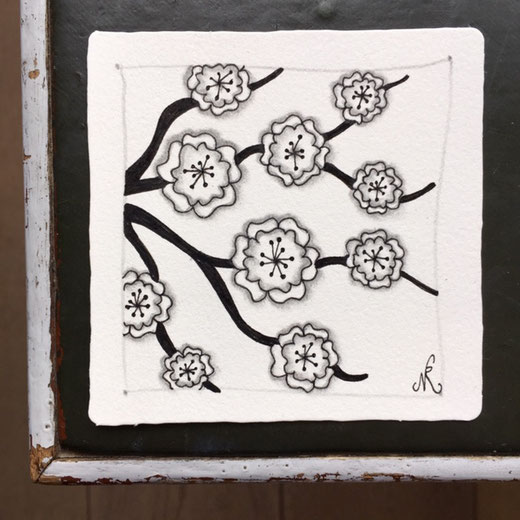 With branches without colours I also like them very much.
Und hier nun die Schritt-für-Schritt-Anleitung für dieses sommerliche Fluffymuster.
Here it comes, the stepout of this fluffy summery pattern HAPPY.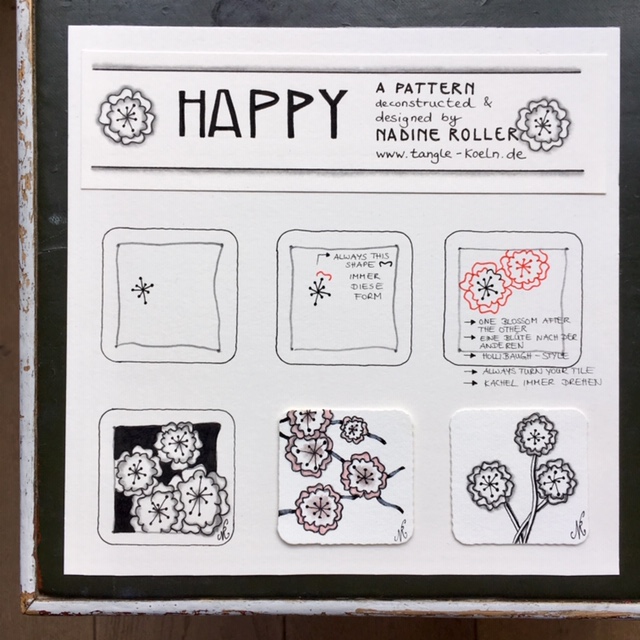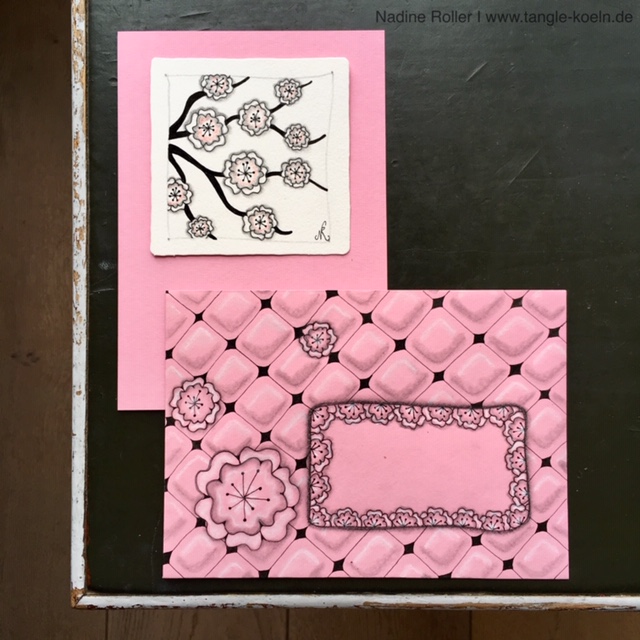 HAPPY as an address frame at an birthday envelope, together with the pattern FLORZ from Maria Thomas and Rick Roberts (the founders of the Zentangle®method)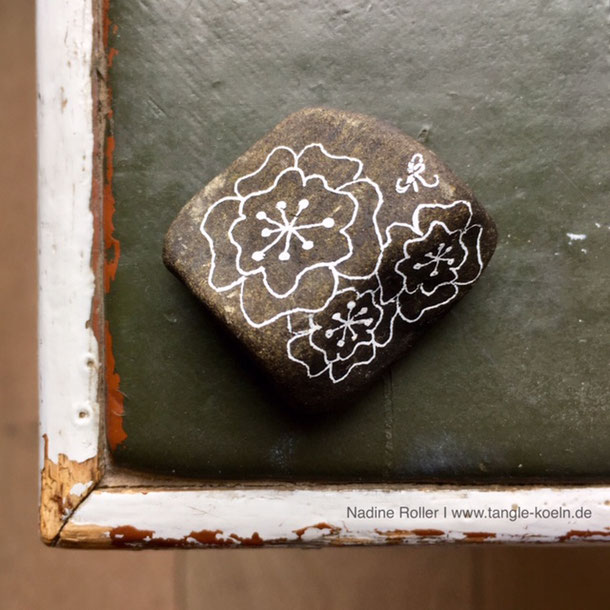 HAPPY at a stone from a lovely river called Düssel in the Neander Valley near Cologne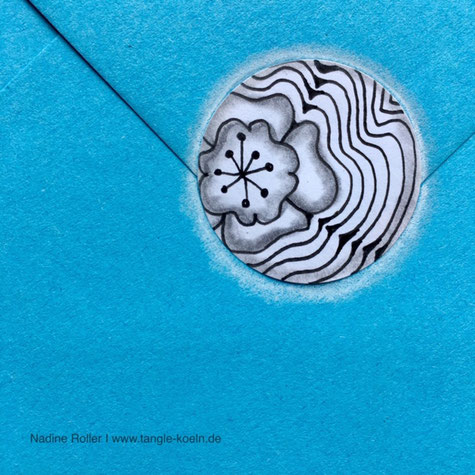 HAPPY at a sticker as an seal for the envelope.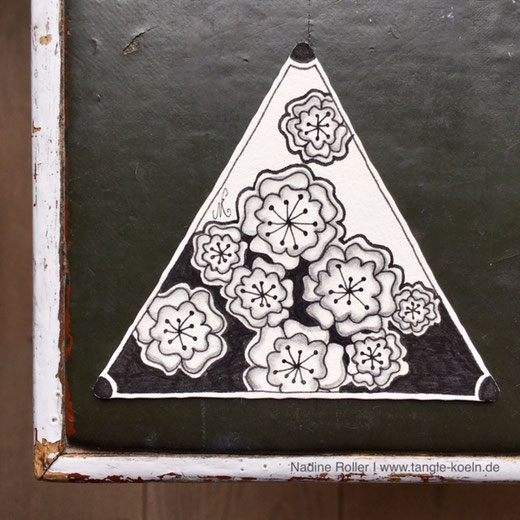 HAPPY monotangle at a 3Z tile.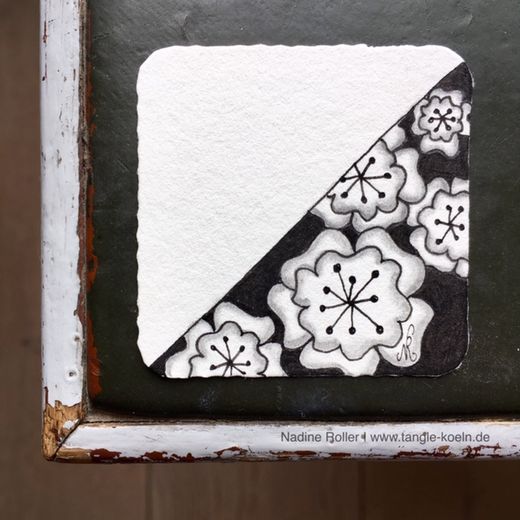 HAPPY at a little bijou tile.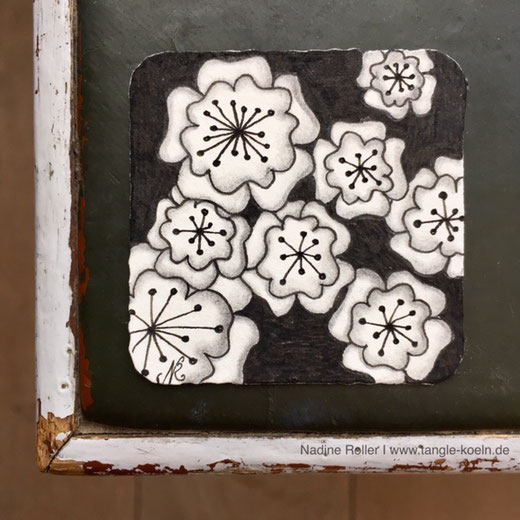 Another HAPPY bijou tile ;-).
Ich wünsche dir viel Freude beim Ausprobieren! Ich bin immer ganz beglückt, wenn ich irgendwo eines meiner Muster sehe!!
Es ist wie ein "Bumerang an Inspiration", so hat es Hanny Waldburger neulich so wunderbar passend ausgedrückt. Fühle dich also herzlich eingeladen, es mich wissen zu lassen, wenn du HAPPY getanglet hast :-)!
Danke, dass du vorbeigeschaut hast. Alles Liebe und HAPPYness für dich!
Have fun while testing HAPPY. Let me know about it. I love it to see all the wonderful interpretations everyone has. Thank you for stopping by. All the best and HAPPYness to you :-)!!