Neulich bat mich mein sechsjähriger Sohn, mit ihm zu tanglen. Er hatte meine Xirc-o-mania mitbekommen mit dem Muster PROSA und wollte, dass ich ihm zeige, wie es geht.
Days ago, my six year old son Vincent asked me if i could tangle with him. He has seen me drawing PROSA in my Xirc-o-mania over and over and wanted me to show him this pattern.
Ich frage mich immer wieder ernsthaft, warum wir nicht viel öfters gemeinsam tanglen. Es ist jedesmal, auch wenn es leider eher selten dazu kommt, ein wirklich großes Glück für mich.
I really ask myself seriously, why we don´t tangle more often together. It is always such a pleasure to me although we don`t tangle regularly together.
Des öfteren habe ich den dringenden Wunsch, das manchmal etwas "hektische Treiben" in den wenigen kostbaren Nachmittagsstunden nach der Schule ändern zu wollen. Mein Innerstes sagt mir, dass ich eine "Kultur der Ruhe" , wie Hermann Scherer so schön schreibt, pflegen möchte. Dass weniger mehr ist, was Verabredungen und Termine betrifft.
Many a time i urgently wish, changing busy time after school in these few precious hours until bedtime. My core tells me that i want to cultivate a "culture of quiet". Less is more. Less appointments and dates.
Um eben genau auch Raum und Zeit für die Dinge zu haben, die sonst untergehen. Etwas gemeinsam intensiv tun zu können, mit völliger Ruhe und Entspanntheit, das ist wahres Glück und es sind die Momente und Augenblicke, die zählen, erfüllen und an die ich mich (gerne) erinnere.
Having time and space doing things you don`t do when you are busy. Spending time together, full of intensity, rest and peace. This is real luck. And these are the moments that count, that satisfy and that I remember.
Und so kam es nun also dazu, dass wir uns an Vincents Schreibtisch setzten, um zu tanglen. Sein Interesse, sein Wissen über die Zentangle-Methode und seine Ideen und Vorschläge erstaunen und inspirieren mich immer wieder enorm. Diesesmal schlug er ganz beherzt und spontan eine 2 als Faden für unsere beiden Kacheln vor. Auf diese Idee, eine Zahl als Faden zu nehmen, kam ich seltsamerweise noch nie :-).
Well, so we took place at Vincents desk tangling. His interest, his knowledge about the Zentangle-method and his ideas and suggestions always make me stunning and i feel very inspired. This time he suggested lionhearted to use a 2 as a string for our both tiles. I really wondered that i never have had the idea using numbers as a string :-)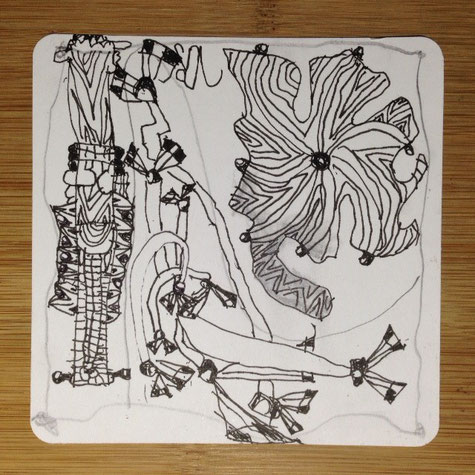 Die 2 als Faden nach rechts gekippt.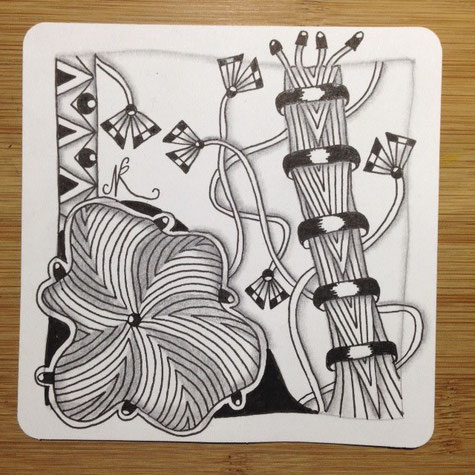 Die 2 als Faden nach links gekippt.
Im ersten Feld oben rechts kreiierte mein Sohn dann im selben beherzten Stil diese hübsche und schwungvolle PROSA Blume, die, laut Vincent durch die vielen Blüten  noch mehr Glück bringen solle als ein Kleeblatt. Bei diesem Anblick und seiner fantasiereichen Interpretation schmolz mein Mutterherz natürlich direkt dahin, das ist klar ;-)
At the top at the right side he created this beautiful curved PROSA and told me, that the many petals bring even more luck as a shamrock. Looking at this gorgeous PROSA flower and his interpretation full of fantasy, my motherheart melted away, you can imagine ;-)
Ich probierte dann rechts eine Zander Variante, Vincents wollte lieber einfach darauf loslegen und ein Freestylemuster zeichnen.
I tried a variation of Zander and Vincent wanted just tangle in a freestyle way.
Das kleine Muster mit den Zacken links und rechts von seinem "Totempfahl" im linken Feld hatte es ihm besonders angetan und er fragte mich, ob ich dieses Muster kennen würde. Das fände er toll. Und ich solle es doch bitte auch einmal ausprobieren. Und so kam es dann, dass er mir auf meinen Vorschlag hin eine Schritt-für-Schritt Anleitung zeichnete. Recht spontan wollte er das Muster VO nennen, weil doch so viele Vs drin vorkommen und die Perlen wie Os aussehen würden. VO!
Schau dir den Stepout, auf meinem Stiftekoffer fotografiert, selbst an:
The wonky little pattern at the left and at the right from his "totem pole" he really liked and he asked me if i knew this pattern already. I did not. Do you? He suggested me that i also could tangle this pattern he has drawn. And so i asked him making a stepout for me. He told me soonish he would like to call it VO, because there are so many V in it (he loves the V because of his name Vincent ;-) and that the pearls also look like Os. VO!
Have a look at the stepout i have photographed at my old suitcase full of pens: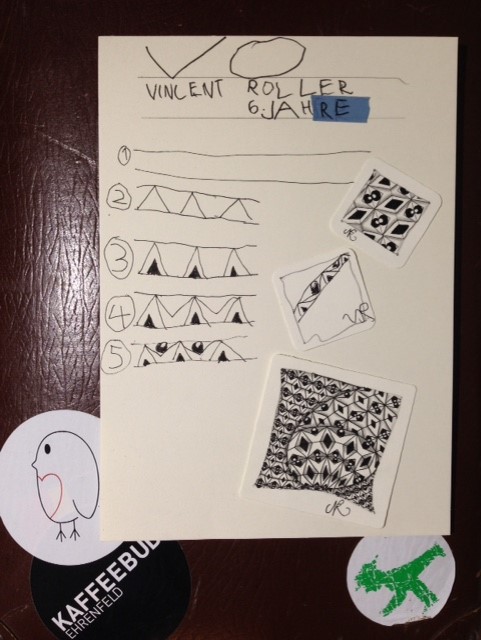 Und weil ich echten Spaß hatte, VO auf der Bijoukachel zu tanglen und noch Lust auf mehr VO, habe ich dann aus der ursprünglichen Bordüre ein Füllmuster getanglet, das mir auch gut gefällt. 
Guess what. I have had such a fun tangling VO as a border at the Bijou that i wanted to tangle more VO... and so VO became a fill pattern, that i also like, too.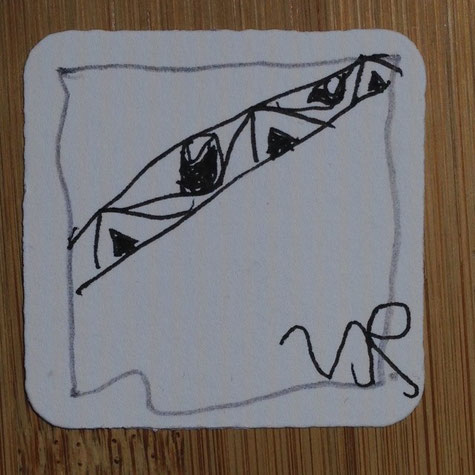 Vo als ein Bordürenmuster / Vo as a border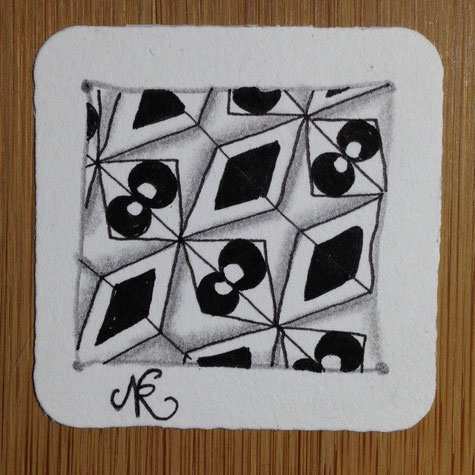 Vo als gespiegelte Bordüre und Füllmuster / Vo as a border mirrored
Und hier nahm ich dann selbst ganz beherzt und inspiriert die 6 als Faden und spielte mit verschiedenen Schattierungen von VO :-).
At the next tile i also took lionhearted and inspired by my son the number 6 as a string. Playing with different kinds of shading VO :-).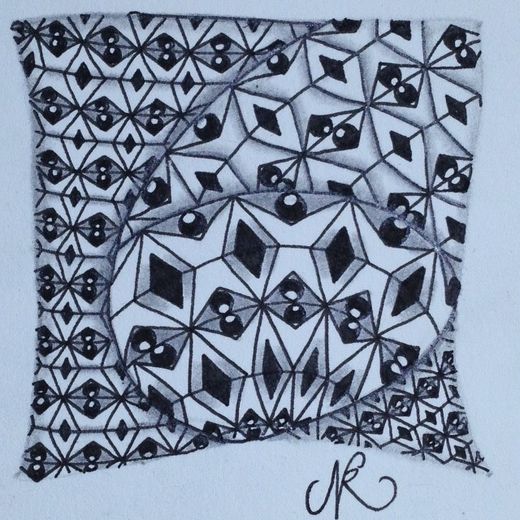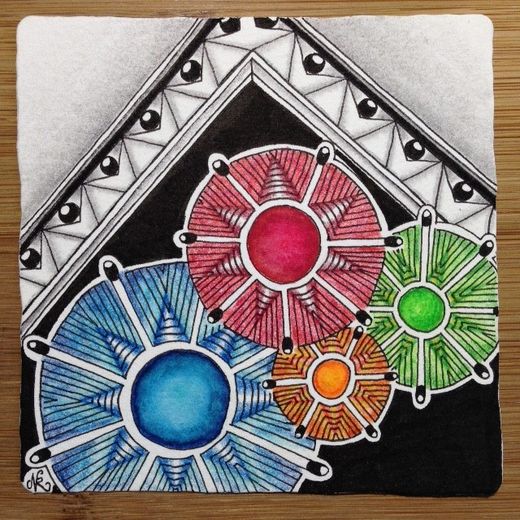 VO as a border with my pattern NAAKI
Ich hoffe, der einen oder anderen gefällt das Muster VO genauso gut, wie es bei Vincent und mir Anklang gefunden hat.
Wenn du einen Kommentar hinterlassen möchtest, wird das bestimmt freudestrahlend und stolz entgegengenommen :-).
Und vielen Dank auch, dass du dir die Zeit genommen hast, mit uns auf unsere "Tanglereise an einem grauen Januartag" zu gehen.
Ich wünsche dir von Herzen eine "Kultur der Ruhe" mit viel Freude, "JETZT" und Entspannung !
I  hope that you also like VO and it also appeals to you like it appeals to Vincent and me.
If you want to leave a comment, i am sure Vincent will be full of happiness and proud :-).
Thank you so much stopping by and going with us at our "Tanglejourney at a grey january day"!
I wish you heartily a "culture of quiet, rest and peace" with much fun, "NOW" and relaxation !