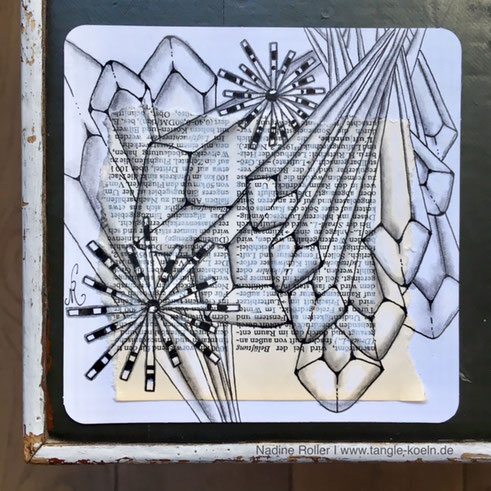 ANTHEM, dieses hübsche, neue Muster meiner amerikanischen Zentangle-Schwester Jody Genovese, CZT, musste ich unbedingt ausprobieren. Ich gebe zu, es ist nicht leicht, zu kombinieren. Ich habe dann einfach mal losgelegt und mich im Flow leiten lassen. Irgendwann kam mir die Idee, dass ich es gerne mit meinem Muster HERO kombinieren möchte. Beide Muster haben etwas Strahlend, Starkes an sich. Auf Lauras Homepage kannst du dir die anderen Beiträge zur Diva Challenge 384 anschauen. Es ist immer wieder schön, die verschiedenen Kacheln zu bestaunen.
I really had to take part at Lauras Diva Challenge 384.
ANTHEM is such a pretty new pattern my american Zentangle-sister Jody Genovese, CZT, deconstructed. It has been much fun tangling ANTHEM. I have to confess, that it is not so easy to combine. I just started tangling. Trusting that it would be alright. I went with the flow and suddenly the idea of combining with my pattern HERO popped into my head. Both patterns have something strong and sparkling. Thank you Laura and Jody for your constant inspiration!
Ich freue mich sehr, dass du dir die Zeit genommen hast, meinen Beitrag anzuschauen. Lieben Dank!
Thank you so much for stopping by!