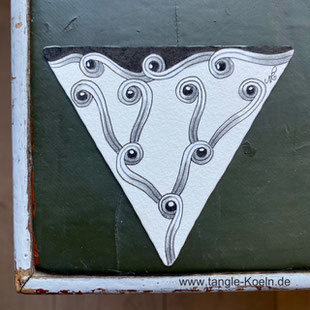 Das Muster SANDSWIRL von Karry Heun ist seit je her eines meiner Lieblingsmuster und inspirierte mich zu SASWIRNA. Als ich vor einigen Jahren mit dem Muster spielte, nahm ich eine schlanke Version des Grundelementes und ordnete es speziell an.
The pattern SANDSWIRL by Karry Heun has always been one of my favorite patterns and inspired me to create SASWIRNA. When I played with the pattern a few years ago, I took a slim version of the basic element and arranged it in a special way.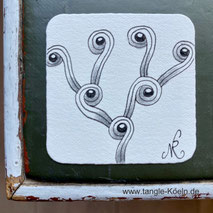 Sozusagen ein Fragment, mit dem man unendlich weiter spielen kann. So ist es nun nicht mehr ein "flächenfüllendes Muster" sondern hat einen sich windenden Charakter erhalten.
A fragment, so to speak, with which you can continue to play endlessly. So now it is no longer an "area-filling pattern" but has taken on a twisting character.
Es kann nun wie ein Busch aussehen.....
It can now look like a bush.....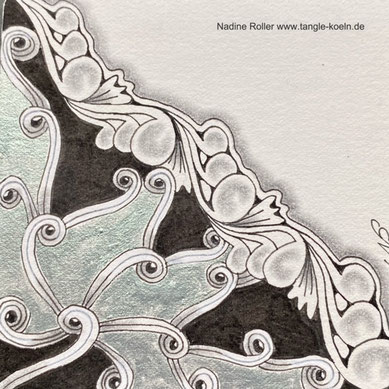 .... oder wie ein Wasserwirbel auf einer Kachel meines Panta Rhei Workshops diesen Sommer.
.... or like a water vortex on a tile of my Panta Rhei workshop this summer.
Auf alle Fälle ist es ein sehr lebendiges Muster, das viel Freude bereitet. Endlich komme ich nun dazu, euch das Video, wie ich SASWIRNA tangle, hochzuladen und zu zeigen.

In any case, it is a very lively pattern that gives a lot of pleasure. Finally I get around to uploading and showing you the video of how I tangle SASWIRNA.
Viel Freude beim Tanglen und Ausprobieren wünsche ich dir!
I hope you enjoy tangling and trying it out!