Diese Woche wurde ein Video von Sakura Amerika veröffentlicht, in dem Molly das Muster CRAZY 'NZEPPEL vorstellt. Lustigerweise mag ich diese Variante auch viel lieber und es geht mir ähnlich wie Laura. Ich habe bislang immer nur die Tangleation von 'NZEPPEL gezeichnet.
This week Sakura of America released another video featuring zentangle royalty Molly Hollibaugh where she guides you through a variation, or tangleation, of the tangle 'Nzeppel - it's called Crazy 'nzeppel! Like Laura i like this tangleation most. I never used the grid based version yet :-).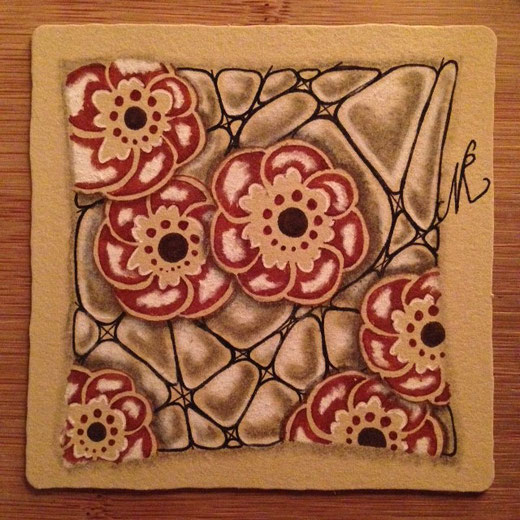 CRAZY 'NZEPPEL as a background for my pattern FLOWLI
Wenn du magst, kannst du dir das kurweilige Video von Molly hier anschauen.
If you want, you can have a look at the short video from Molly.
Schön, dass du vorbeigeschaut hast! Ich hoffe, dir gefällt CRAZY 'NZEPPEL auf einer Renaissance Kachel.
Über deinen Kommentar freue ich mich sehr!
So nice that you have stopped by looking at my tile. I hope you like CRAZY 'NZEPPEL at a renaissance tile.
I would be pleased reading your comment!