Was für eine wunderbare Diva Challenge 313 , eine Kachel zum "Tag der Erde" am 22.4.2017 zu gestalten. Laura benutzte einen Keksekarton, um darauf zu tanglen. Recycling is cool! Oh ja, das finde ich auch!
Mich lachte eine gefärbte Kachel mit freundlichem gelb-orangenen Untergrund an. Irgendwie kam mir direkt mein Muster NAAKI in den Sinn, das mich immer wieder sonnig anlacht, wenn ich es sehe. Dazu probierte ich das Muster RUUTZ, außerdem FLEC und BUBBLZ aus.
Ich bin eine große Naturliebhaberin, genieße es, draußen zu sein. In meinem alltäglichen Leben laufe ich oder fahre Fahrrad, um Dinge zu erledigen.  Ich kaufe prinzipiell nachhaltig ein, es fließt grüner Naturstrom hier. Ich gebe es zu, ich bin ein wahrer "Bio-Freak"  ;-).
Ich wünsche mir, dass noch viel viel mehr Menschen ein Bewusstsein dafür entwickeln, wie kostbar unsere Erde ist! Dass wir sie schützen müssen!
Mein Sohn weiß das schon mit seinen nun sieben Jahren und setzt sein gelerntes Wissen in vielen Dingen um.
Diese fröhliche Kachel werde ich ihm morgen schenken und mich bei ihm dafür bedanken :-)
What a wonderful diva challenge 313, to create a tile to honor our Mother earth as a tribute to Earth Day at april 22th.
Laura chose tangling on a piece of recycled material. Recycling is cool! Oh yes, i think so too!
I came up with my pattern NAAKI, that always reminds me looking like a sun, combined with RUUTZ, FLEC and BUBBLZ. I tangled at a lovely coloured tile in yellow and orange.
I love nature very much, enjoying being outside. In my daily life, i just walk or take my bicycle doing things. I only buy sustainable, we have green electricity here. Yes, i confess, i am an organic freak ;-)
I really wish that more and more people develop sensitivity protecting and saving  mother earth!
My son knows that already with his now seven years, trying to put it into practice. This cheerful and happy tile will be a present for him tomorrow, saying thank you to him considering that :-)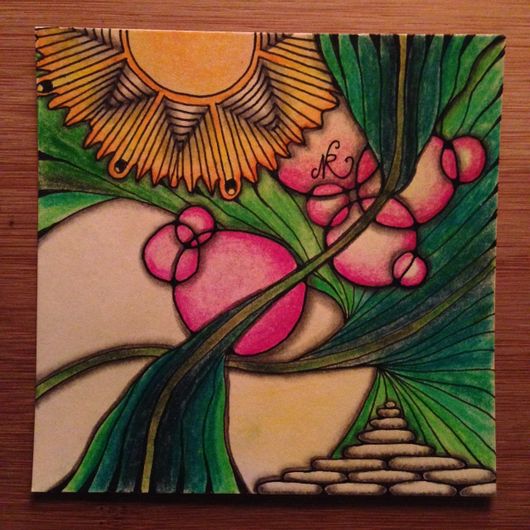 Die Kachel habe ich die letzten zwei Nächte in alter Nachteulenmanier getangelt. Ich hoffe, sie gefällt dir!
Schön, dass du dir Zeit genommen hast, vorbeizuschauen. Danke! ( Und jetzt schleunigst ab ins Bett ;-)
This tile i created last two nights in my nightowl manner. I hope you like it! Thank you for stopping by! ( And now I should immediately going to bed ;-)