Eine gute Frage:
Sehen die Kacheln, die wir online posten anders aus, als die, die wir "nur" so zur Entspannung tanglen?
Bei den meisten CZTs scheint das so zu sein. Tatsächlich postet natürlich auch jeder nur das, was er schön findet. So geht es uns allen - schließlich sieht man ja nur das Ergebnis und nicht den Prozess. Und doch ist der Prozess eigentlich genau das, was bei der Zentanglemethode im Mittelpunkt steht und stehen sollte. Schade, dass wir Menschen dann doch immer wieder diese ergebnisorientierte Prägung haben. Andererseits denke ich, dass man das auch nicht komplett verneinen kann. Ich sage mir und meinen Kursteilnehmern immer, dass bestimmt nicht jede Kachel "die Beste" sein wird. Dass das jedem von uns so geht :-) Dass eben genau auch die, die wir nicht so berauschend finden, nicht veröffentlicht werden. Das ist menschlich! Und doch : Wenn es Spaß gemacht hat, zu tanglen, dann hat man eben doch trotzdem das gewonnen, was man wollte: die Entspannung beim Tanglen!
Danke dir Laura für diese wunderbare Challenge!
Ich habe laut Lauras Aufgabe nicht nachgedacht, habe zwei meiner Lieblingsmuster getangelt und war entspannt. Wenn ich organische Tangles wie #SERO tangle, entspanne ich mich immer am besten, da ich mich da so kreativ und "frei" ausleben kann.....
This is really a good question! Are the tiles we are posting different to whom we just tangle to relax? Actually this seems to be, the most of the CZTs told in a facebook group. I think it is right, everyone just post the "nice" tiles. It's a pity, because we all know that the process and relaxing is the "heart" of the Zentangle method. At the other side i think it is unfortunately human that we all look at the result. I always tell myself and my students, that there are many kinds of tiles i tangle and they will tangle: The nice ones and also these, you think, okay, it is not the gorgeoust.
And that all of us just post only the prettiest :-)
Nonetheless, if you had fun while tangling, you have won a lot, relaxation! And that has been the aim :-)
Thank you Laura for this wonderful challenge!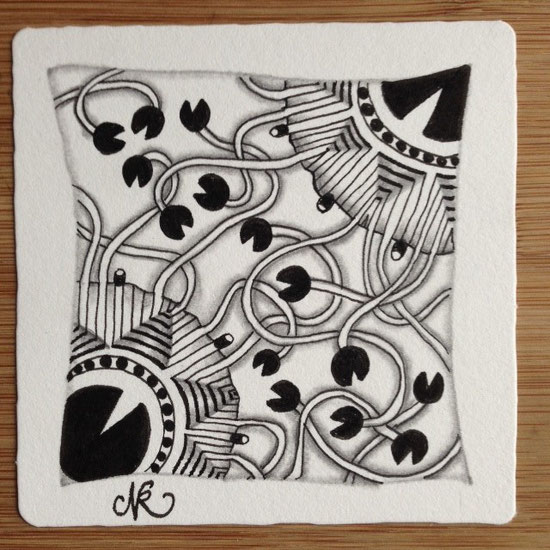 Tangle Muster #NAAKI (den  Stepout findest du hier im Blog) und #SERO.
Tangle pattern #NAAKI (stepout here in the blog) and #SERO.
Beim Betrachten der Kachel danach fiel mir auf, dass die Kachel meinen heutigen Gefühlszustand auch auf eine Art widerspiegelt. Die zwei runden Muster #NAAKI als zwei Pole. Weit voneinander entfernt. Doch gibt es etwas dazwischen, was sie verbindet. Heute ist der vierte Todestag meines Vaters. Ein wunderbarer, sonniger und immer großherziger Mensch, der immer noch irgendwie "da" ist und mit dem ich mich stark verbunden fühle....
While appeciating my tile, i recognized, that it holds a mirror up to my feelings of today and these days. The both round patterns #NAAKI are like two poles. Far away from each other. Nevertheless there is something between (#SERO), that connects both. Today it`s the fourth day of my Dad`s death. He has been such a wonderful, sunny and magnanimous person and he is still connected with me, kind of....
Du kannst gerne, wenn du magst, einen Kommentar hinterlassen. Ich habe leider noch keinen Erfolg gehabt, das bei anderen zu tun und muss unbedingt noch herausfinden, woran es hakt.
You can leave a comment, if you want... Unfortunately, i did not have succes leaving comments at other sides. Don`t know the reason and have to find out whats going wrong.