Mal ganz ehrlich :
Ich bin so glücklich, dankbar und ausgeglichen, seit ich dank des Klemmbrettes rechts tanglen und links stillen kann :-)
To be honest:
I am so happy, grateful and balanced since i can tangle while nursing with my little clip board always at my side :-).
Diese Woche war das Muster TRIPOLI als Monotangle gefragt. Ich mag das Muster inzwischen sehr gerne, seit ich einen guten Trick rausgefunden habe, wie ich es anordnen kann. Mit TRIPOLI kann man auch so schön "spielen"!
Plötzlich hatte ich einen Stern, seht ihr ihn? Es können die schönsten geometrischen Formen dabei herauskommen, je nachdem, ob man rechtzeitig aufhören kann ;-)
The pattern of this week is TRIPOLI as a monotangle. I love TRIPOLI since i found a good way for me to arrange the triangles. I love to "play" with this pattern. Suddenly i had tangled a star, can you see it? I think there are so many geometric shapes that come to light. Always provided that you can stop ;-)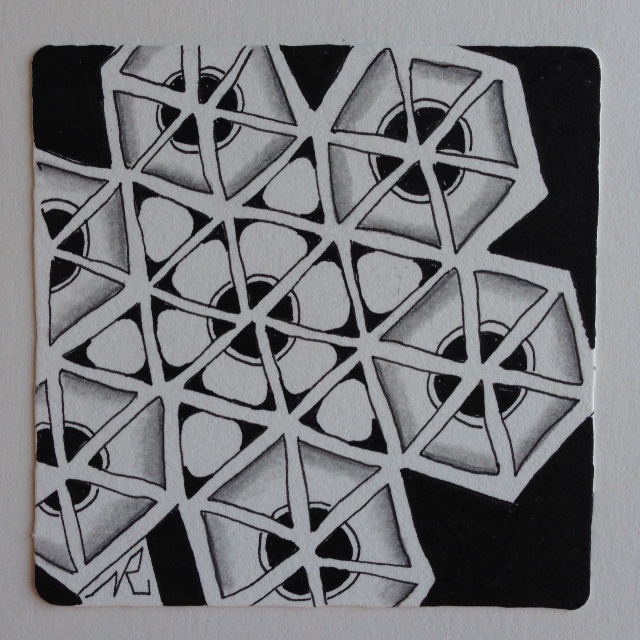 Über deinen Kommentar würde ich mich sehr freuen!
I would be very happy if you leave your comment :-)
Die schönen anderen TRIPOLI Kacheln könnt ihr auf Laura Harms Webseite betrachten.
http://iamthedivaczt.blogspot.de/
Ein Muster und doch ist jede Kachel anders. Was für eine herrliche Vielfalt :-) Immer wieder staune ich.
You can see the other TRIPOLI tiles at Laura Harms Website
http://iamthedivaczt.blogspot.de/
One pattern and nethertheless such an awesome diversity. Always stunning for me :-)